CEAMED has been developing small molecule inhibitors of STAT3 as possible treatments for Triple Negative Breast Cancers (TNBCs), whose development and metastasis are believed to be driven by STAT3 activation.
CEAMED has various families of compounds that reduce the levels of IL-6 activated STAT3, with cellular IC50 values between 50 y 1000 nM (for comparison Silibinin has an IC50 of approximately 100 mM)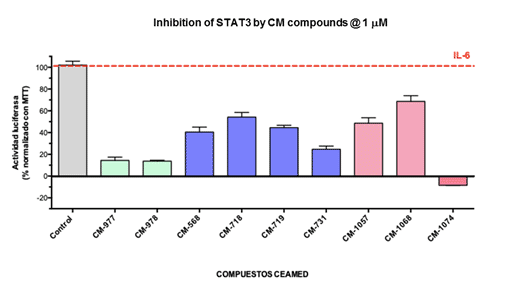 Advanced candidate, CM-978:
Potent inhibitor of the activation of STAT3 by IL-6 in human cells (IC50 ~ 0.6 µM).
It has a good half-life, volume of distribution and bioavailability after PO or IP dosing, in both mice and rats.
Given its cellular activity against IL-6 activated STAT3, and it's in vivo profile in rodents, CM-978 is a good candidate for additional in vitro and in vivo studies in order to determine whether an inhibitor of STAT3 is capable of preventing or reducing the effects of the cytokine storm produced by SARS-CoV-2.
CEAMED is therefore looking for collaborators/partners to help us further investigate these ideas. 
Low toxicity in rats after 21 days repeated dosing.
Related downloads: